In Muehlhausen (Middle Franconia) the presence of Jewish inhabitants is attested since the second half of the 15th century. In 1824/25 the Jewish community reached its peak with 208 members. This was 25 % of the entire population of Muehlhausen.
While Jewish inhabitants of Muehlhausen were initially buried in the Jewish cemetery of Zeckern about 15 km away, an own cemetery was set up in Muehlhausen in 1738, also used by the surrounding communities. The first burial took place already in 1738 and on 15th of April 1938 Karl Reizenstein was the last person buried there.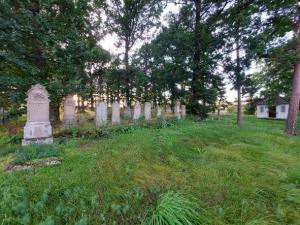 Still today the cemetery is located on the outskirts of the village under old trees. The entrance is formed by a wrought-iron gate on the eastern side of the area. On the right side of the entrance lays the tahara house constructed around the year 1900 and containing an older stone washing table; on the left side of the entrance are graves of the Kohanim. But most of the graves are situated behind a grassy area in the western, rear third of the cemetery. In total the cemetery comprises 373 gravestones (mazewot), which partly show symbols for Kohanim, Levites and blowers of the shofar or still have an iron enclosure. Many of the mazewot made of sandstone were originally embellished with marble tablets which expressed the memory texts for the deceased, but which were destroyed during the National Socialism.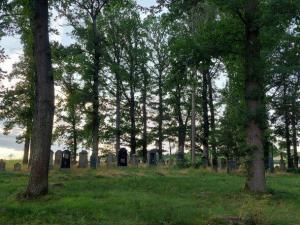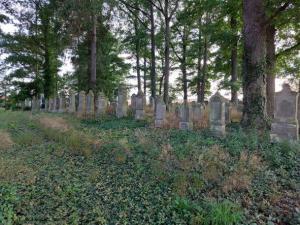 Photographs: Kristina Fleischmann, 2021.